Ski lift evacuation solutions
When gondola lift users or skiers are stuck in a ropeway (chairlift, ski lift, tram, cable car etc.), it is essential that they are rescued as soon as possible. The ski patrol rescue team must be able to access the cabins or chairs in order to assist the trapped passengers. According to regulations, rescuers have a maximum time of 3 hours to evacuate all the passengers of the line. Consequently, rescuers need a variety of techniques to access the tower, move on the cable and rescue trapped passengers (autonomous access vehicle, evac rescue kit, self-braking descender). 
There are several criteria to consider when deciding on the equipment and evacuation technique to use: the number of cabins/chairs to evacuate, the number of rescuers, distances between the towers, spans, evacuation areas, slope of the cable.
ACCESS SOLUTIONS FOR RESCUE AND LIFT EVACUATION
Access vehicles to stuck or broken gondolas or chair lifts
Gamesystem has developed a range of vehicles specific to ropeways, enabling rescuers to safely and quickly access the people stuck on a chair lift or gondola lift. Our equipment is made for performing operations on cables with diameters from 26mm to 64mm. Our rescue equipment must be used by competent people trained in its use, and in accordance with a evacuation plan specific to each installation.
Rescue Kits and Self-braking descender
Gamesystem also offers a wide range of equipment specifically for evacuation that is used to rescue trapped people. Once installed by the rescuer, the equipment enables the fast and effective evacuation of passengers. The choice of equipment to use depends on a number of factors: the configuration of the ropeway (gondola, tram) and the ski lift evacuation technique to implement: oblique or vertical rescue.
PERSONAL PROTECTIVE EQUIPMENT SPECIFIC TO LIFT EVACUATION
PPE specifically for rescuing ropeway passengers
To ensure the safety of ski patrol teams and rescuers during evacuations from ropeways, they must be equipped with fall arrest PPE. Gamesystem, French manufacturer of PPE,  supplies you with all the specific personal protective equipment for rescue operations.
VIDEOS - ACCESS AND EVACUATION
Expert in interventions on ropeways and urban cable cars, Gamesystem offers you an extensive range of videos on the subject: aerial lift evacuation (rescue), use of access and rescue equipment (Motorgames, Véligames II, Héligames II, Choucas, etc.). These videos showcase the solutions and techniques that will enable your operators (rescue teams) to safely access your towers and cabins to evacuate aerial lifts.
OUR ACHIEVEMENTS - INTERVENTIONS ON ROPEWAYS
TRAINING SPECIFIC TO ROPEWAYS RESCUE OPERATIONS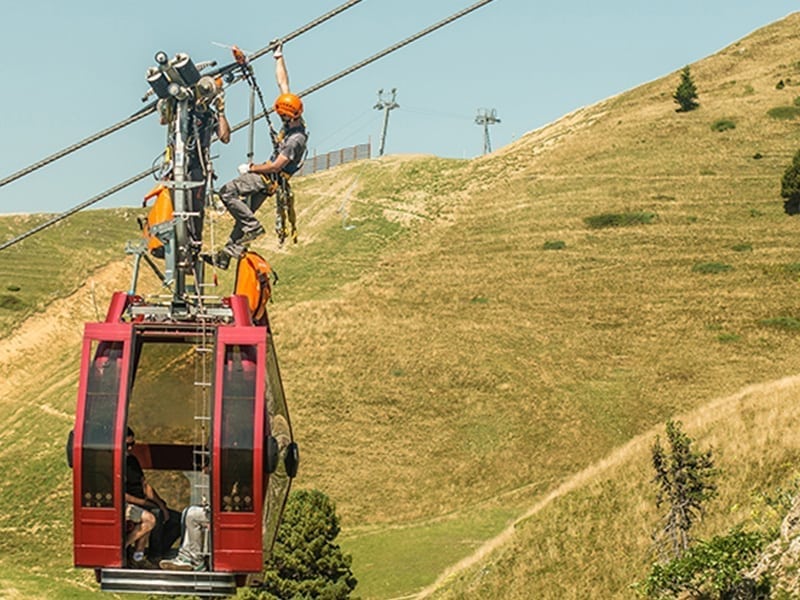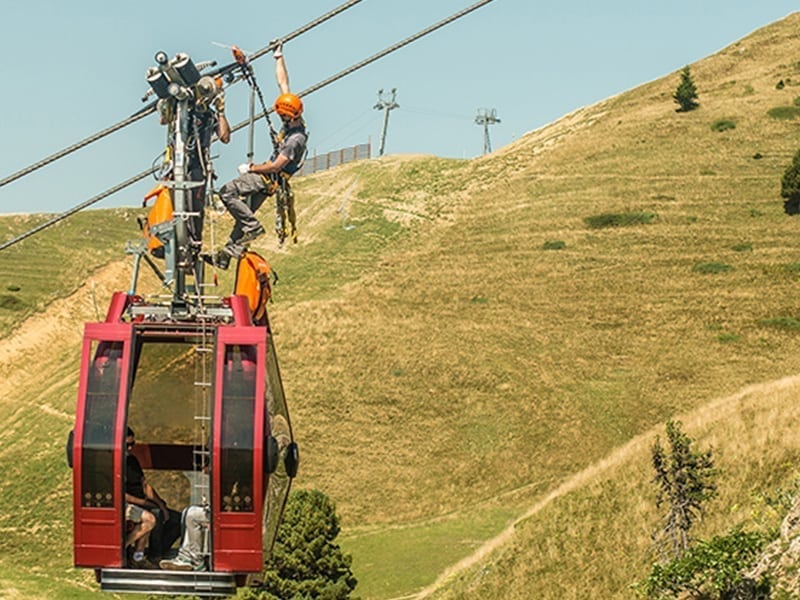 Interventions on ski lifts and aerial lift rescue

Duration : 1 to 3 days
Intervention and safe rescue on ski lifts