Working at height training organisation
The Gamesystem Training and Audit Department (formerly Gamestream training) was established in 1988. Is is the fist training establishment to have been created in France that is entirely dedicated to the prevention of risks related to falling from height.
With the aim of ensuring trainees are able to work safely at height according to their missions, Gamesystem implements a teaching approach to prepare participants from both a theoretical and practical point of view.
More than 20 training programmes dedicated to working at height
3 reasons to choose our working at height safety training programmes:
Customer satisfaction rate
"Practitioner" instructors in working at height
experienced employees (consistency of the educational content and coordination).
Choose the location of your training:
Our training centre in Grenoble:
2 training rooms,
1 test tower,
1 Telecoms mast,
1 EHV mast,
2 wood/concrete poles,
Secured rooftops,
Fall from height tester,
Fixed and mobile scaffold towers,
1 presentation room.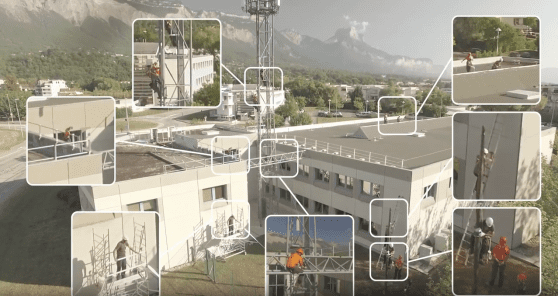 MORE THAN 100,000 TRAINEES TRAINED SINCE 1988.
Gamesystem training, a real expert in working at height
These many years of experience give Gamesystem training significant expertise in analysing the needs of its customers and proposing relevant solutions to them for their working at height training projects (training in harness wearing, scaffold tower assembly, evacuation, creating temporary anchors, etc.).
With the aim of ensuring that trainees are able to carry out their operations at height safely, Gamesystem training provides a pedagogical approach that prepares participants from both a theoretical (working at height regulations, impact force and fall factors, assessing means of access for working at height, etc.) and practical (working at height exercises, securing ladders, rope work, working on rooftops, masts, etc.) point of view..
Slide show of our working at height training courses: